Iowa has about 960 post offices, and there are 180 on the closing list. That's almost 20% of Iowa's post offices, and almost twice the national average of about 11% (3,600 out of 32,000). And that's on top of the 80 or so already marked for closing. Iowa Backroads is doing a fantastic job keeping track of all the closings and news articles, along with a great gallery of photos. Someone in every state should be doing the same.
The country's post offices are approximately 85% main post offices, 15% stations, but in Iowa, nearly every post office is a main post office. There are very few stations and branches because of the rural nature of the state.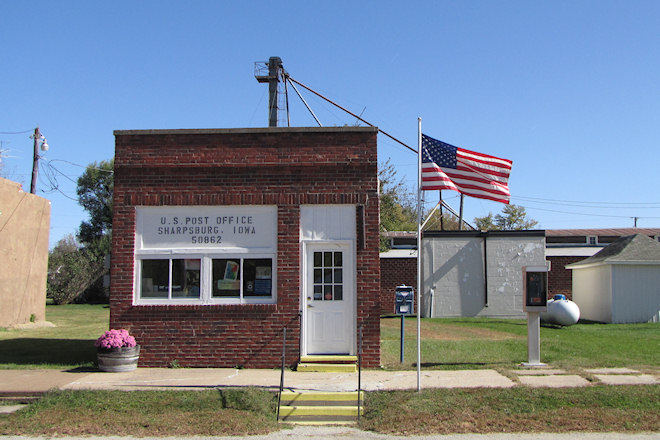 About one-fourth of the country's post offices are owned, and three-fourths are leased. Of the 180 on Iowa's closing list, about 20 are owned and 160 are leased, so a larger number than the national average are leased spaces, and none of the owned properties dates back before 1988. Not that there aren't some old post offices in Iowa, including New Deal p.o.'s, as well as some beautiful examples of vernacular styles.
Looking at the 160 post offices leasing space in Iowa, about 100 of them have leases that extend beyond a year from now, so that means the Postal Service could be walking away from a lot of leases and paying for the privilege.
We're looking at something like 25 leases with a year to go after July 2012, 20 with two years to go, 30 with three years to go, and 25 with even more. The average annual rent for Iowa post offices is about $4,800. So we're talking about roughly $1.2 million that the Postal Service would need to pay to lessors if by next July it has closed all 100 post offices with leases that run beyond July 2012.
Iowa has been having a tough time dealing with the prospect of losing 80 post offices. Adding another 180 to the list has to feel devastating.
Data source: Most of the data cited above comes from the USPS website, leased facilities here, owned here.
(Photo credit: Iowa Backroads: Crystal Lake post office (1960), Sharpsburg post office, both already on closure lists)