Home KS
---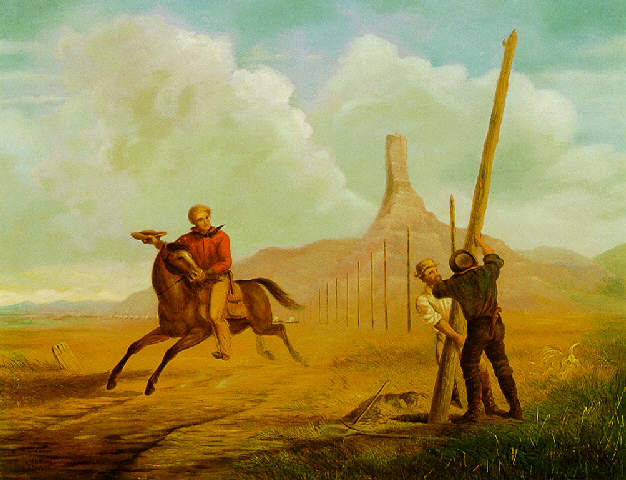 The Pony Express is legendary for the daring of its riders and the speed with which it delivered the mail—from St. Joseph, Missouri, to Sacramento, California, 1900 miles in 10 days. Mark Twain was out west during those months, stage coaching across the Prairie, and he saw a "pony-rider" first-hand. But as he writes in Roughing It, the rider went by so fast, Twain almost missed him: "So sudden is it all, and so like a flash of unreal fancy, that but for the flake of white foam left quivering and perishing on a mail-sack after the vision had flashed by and disappeared, we might have doubted whether we had seen any actual horse and man at all, maybe."
The days of the Pony Express were brief, just eighteen months, from April 1860 to October 1861. With the completion of the Pacific Telegraph line, there was no need for the pony riders. But their romance is part of the legend of the West, and there's now a stretch of Highway 36 running through Missouri and Kansas that's been named the Pony Express Highway.
Home, Kansas, is a small town on the Pony Express Highway, population 50. The post office was established February 19, 1874. The town got its name when some of its citizens were sitting around trying to come up with a name and someone said, "Well, our post office is located in someone's home, so why don't we call this place 'Home''?
The post office eventually moved to its own building, but now the Postal Service says it plans to close this small rural post office, after serving the people of Home for 137 years. As Lauren Seabrook reports for 49 News, "People here believe the saying is true, there's no place like home. But without their post office, they say Home will never be the same."
Watch the TV news report here.
(Photo credit: "The Last Ride of the Pony Express 1861," by George Martin Ottinger, painted in 1873; Home post office)